Trying to plan a budget-friendly trip to the Florida Keys? We have all the best ideas for staying within your budget and the cost breakdown of how a day in the keys will actually affect your wallet.
After several trips to the Florida Keys, the biggest question we get is how to visit the Florida Keys for cheap. "What's an affordable hotel in Key West?" or "What key should we stay on for cheap rates?" Here's how to plan a budget-friendly trip to the Florida Keys, with tons of fun.
**This post originally appeared on 2TravelDads.com, our sister site**
If we're missing a topic or don't answer your question in this post about doing an inexpensive Florida Keys trip, send me a note and I'll get you set up with the best budget information possible.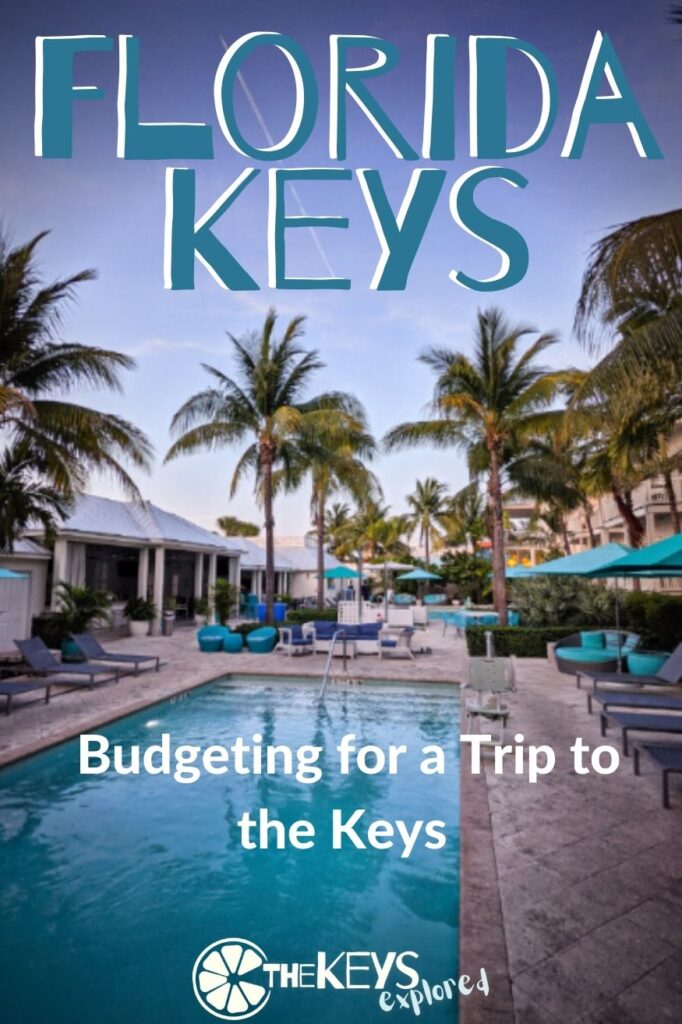 How to Budget for the Florida Keys
Whenever you budget for any vacation, you have to keep four things in mind:
Transportation – flights / rental car / gas
Hotels – lodging / vacation rental / resort
Food – 3 meals a day and snacks
Activities – cheap things to do are great, but big ticket fun is also nice
We tend to set a lump sum budget before we dedicate to our destination, and then if we can make our ideal vacation destination work we will fit it to our budget. The Florida Keys budget is an example of setting a total amount and then tailoring your plan to fit it.
Unless you're flying into Key West and just staying there, a trip to the islands is for sure going to be a Florida Keys road trip.
Actual Florida Keys Costs per Day
To estimate daily costs, I've taken our last two trips to the Florida Keys and broken it down. This doesn't account for flight or rental car costs, but just gas, lodging, food and fun. Consider our expenses as you make an affordable Florida Keys budget.
Gas: 1 tank of gas gets you from Homestead, Florida to Key West and back to Homestead. Gas in the Florida Keys is the same price as on mainland Florida if you fill up on Key Largo, Marathon or Key West.
Hotels in the Florida Keys: this is the biggest cost at $150+ night assuming you go in off-season (July – October). For nicer Florida Keys resorts, you'll be looking at $300+ per night in the off season. If you visit during peak season (November – June) you could be looking at $250+ per night for the budget hotel options. Vacation rentals match these rates.
Dining – there are wonderful cheap places to eat in the Florida Keys (see below) so if you plan your dining to have great food on a budget, you will probably spend around $150 or less per day for a family of four. This doesn't include fine dining, but just three quality, casual meals per day.
Activities – there are lots of free and cheap things to do in the Florida Keys, so you'll not have to worry too much here. To average our spending, it is about $50 per day for activities for four people. That doesn't account for big ticket excursions like visiting Dry Tortugas National Park or doing a fishing trip, but includes things like state park activities or museums.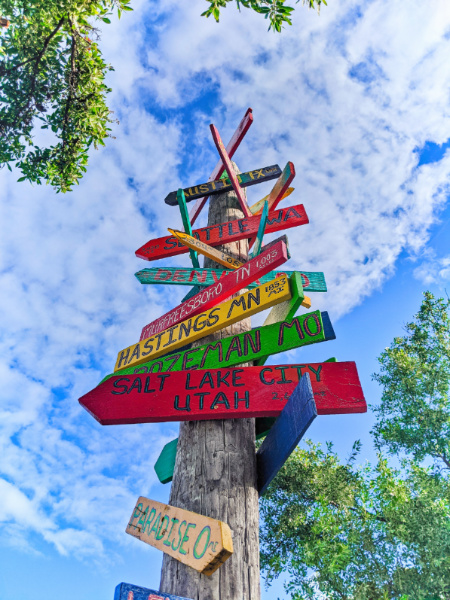 Here's the Florida Keys budget breakdown, both doing the very cheap, most affordable style and then keeping things less expensive, but enjoying a few more nice meals and big ticket activities. 
For the latter, we made the budget based on getting a nice hotel at a great deal, enjoying two mid-grade meals and one nice dinner each day, and then doing activities on the cheap but doing two big excursions (fishing, private charter, or Dry Tortugas). The big ticket excursions tend to run between $600 and $900 for a family of four.
| | | | | | |
| --- | --- | --- | --- | --- | --- |
| Family of 4 Budget | Gas | Hotels | Dining | Activities | Total Daily |
| Tight budget / day | 50 | 120 | 120 | 20 | 310 |
| Medium budget /day | 50 | 150 | 150 | 50 | 400 |
| Budget w/ luxe /day | 50 | 220 | 200 | 225 | 675 |
Of course, you can always set a lower budget and book your Florida Keys resort or lodging in advance on a great deal, but if you're planning 2-3 months out, these costs are pretty accurate (2021 prices). And our tight budget Florida Keys amount is doable, but you must stay strict with your spending and book in advance.
Affordable Florida Keys Hotels
Something we're always a fan of is using points for travel, and since there are Florida Keys resorts and hotels that are a part of major travel brands, such as IHG (Holiday Inn or Kimpton), Marriott, or Preferred Hotels (love the Hawks Cay Resort) you'll actually be able to find accommodations that you can use points for. There are also lots of independent hotels, such as the Laureate Hotel or Marker Resort in Key West.
When it comes to Florida Keys budget hotels, there aren't too many in the Middle Keys, but you'll find some small inns and roadside motels that could work well. We HAVEN'T stayed in any roadside motels in the Florida Keys, so we cannot recommend any one in particular, but there are quite a few, including these cute ones we peeked at and/or researched:
As a reminder, MOTEL is different than HOTEL. If you are choosing to book an inexpensive motel in the Florida Keys, know that it's NOT going to be fancy. You may have amenities like a pool, kayaks or beach access, but you should not expect a property that is 100% 5 star across the board. Always expect cleanliness, but do not expect luxe.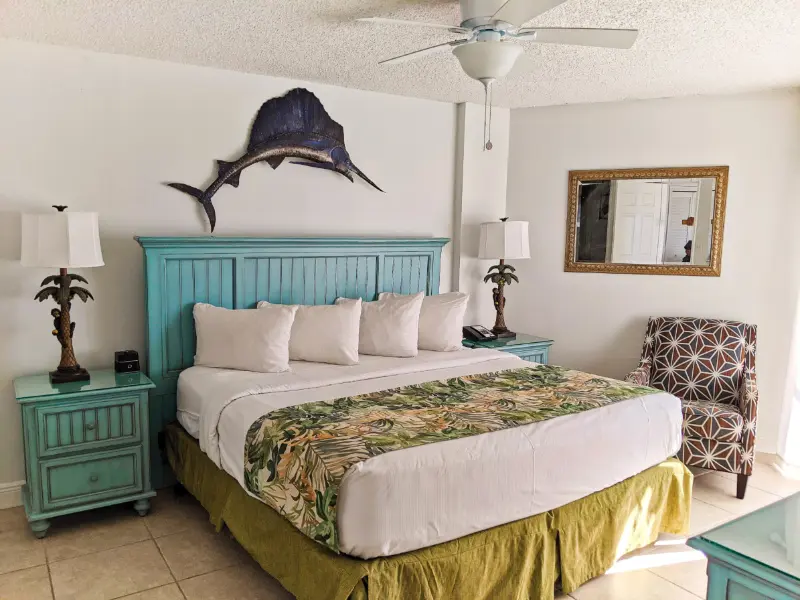 Where to Stay in Key West
Key West is wonderful for finding unique places to stay for any range of budget. We've enjoyed staying in some beautiful hotels (loved both the Laureate Hotel and Marker Resorts) but there are budget-friendly options too, including vintage bed and breakfasts. An option like staying at the Laureate Hotel can be budget friendly because it's so spacious and can be shared accommodations (it's an all-suites hotel). Staying at the Marker Resort or similar is lovely, but not what we'd consider budget-friendly.
The best way to find budget accommodations in Key West, or any of the Florida Keys, is to plan in advance. The trend of getting great last minute deals has passed, especially in a destination like the Florida Keys, so proper planning is much more important now.
Plan to spend more than $180 per night for a hotel or B&B in Key West. More nights in one place usually gets you a better rate, but not usually by too much.
Florida Keys Vacation Rentals and AirBNBs
Because the Florida Keys is such a fun, desirable destination, booking a vacation rental or AirBNB in the Keys may be more complicated. Minimum night stays are very common and accommodations for just a couple vs a family are more difficult to find.
As you search for vacation rentals in the Florida Keys you'll typically find multiple rooms for multiple nights, making any booking several hundred dollars. Unless you're a large family that would normally get two or more hotel rooms, you'll be spending significantly more each night for a vacation rental in the Keys.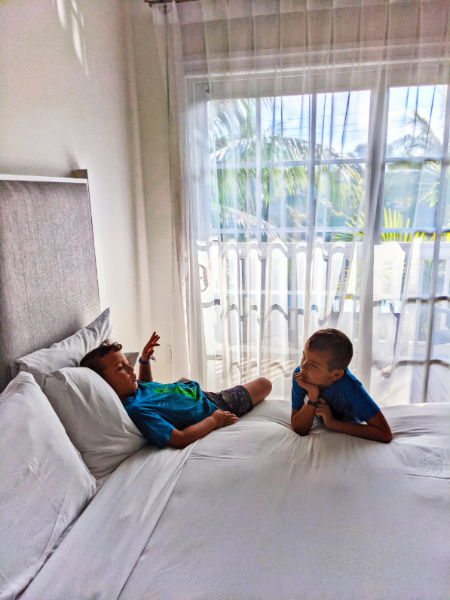 Planning a group trip is really smart though and perfect to turn a trip into an affordable Florida Keys vacation on a budget-friendly trip. Between being able to split the cost of a Florida Keys vacation rental AND being able to split the cost of tour charters (see below) you'll be able to lower the total cost per family significantly!
You'll have a great trip to the Florida Keys, I'm sure, but to make it more affordable and budget-friendly, be sure to plan it and book it in advance. In addition to getting better hotel rates, booking in advance allows you to prepay for activities, so if that helps you stick to your budget or increase your budget, book things when you know you want to.