No matter how you slice it, getting to the Florida Keys is a road trip. Here are the best ways to get to the Florida Keys and answers to frequently asked questions.
No matter how you slice it, getting to the Florida Keys is a road trip. Sure, you can fly into Key West, but you can also fly into other Florida airports and then drive the Overseas Highway as far as you can. And that's when we get to the big questions about planning a Florida Keys vacation:
Can I fly into a major airport or do I have to fly into the Keys?
Are there gas stations along the Overseas Highway?
What should I expect when driving between the many islands? What if something happens?
When is the best time to take a Florida Keys vacation?
We've got all of those answers for you and more!
**This post originally appeared on 2TravelDads.com, our sister site.**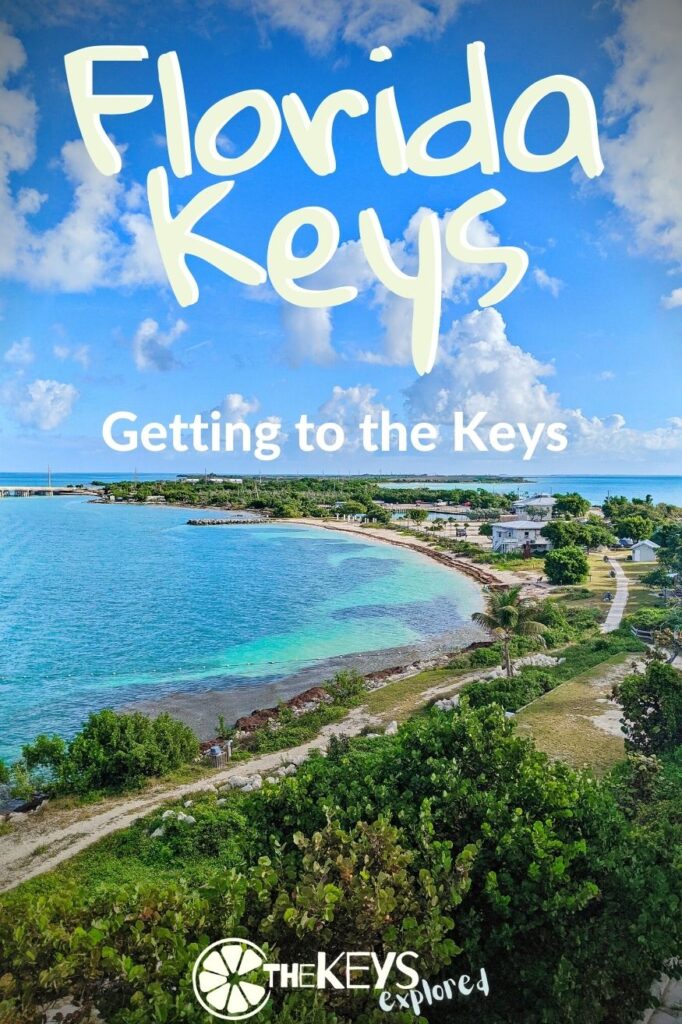 Flight Options to the Florida Keys
Yes, you can fly into Key West (EYW) from many East Coast airports, but you can also fly into Miami (MIA) and Fort Lauderdale (FLL) from nearly anywhere in the USA and Canada. Flights to Key West can be pricey, usually because they including a connecting flight, but there are a fair number of direct flights to Key West also. Flying into Key West, direct flights from out of state are available from:
Boston
New York
Newark
Philadelphia
Washington DC
Chicago
Charlotte
Atlanta
Dallas
To make it even easier to visit from the West Coast, you can find direct flights into Miami and Fort Lauderdale from Los Angeles, Portland, Seattle, San Francisco, Salt Lake City, and more. Flying into the Miami/ Ft Lauderdale area is a great idea because you'll find much cheaper flights than directly into Key West, and the drive from MIA or FLL isn't bad at all.
By the way, you can enter your location in the search form below and find the cheapest flight options:
It's only an hour's drive from Miami International Airport to Key Largo, the northernmost of the Florida Keys. From Fort Lauderdale to Key Largo it's only an hour and a half. Consider these options when you're planning your Florida Keys vacation, especially if you're coming from the West Coast because you'll save both time and money since there are so many flights on many carriers.
Flight Tip: if you're coming from the Pacific Northwest, it's easy to use miles on Alaska Airlines to get direct flights into Fort Lauderdale (FLL) or use those same miles on partner airlines into Miami (MIA).
Another way to approach getting to the Florida Keys is to add it onto a Florida Gulf Coast road trip. You can fly into Tampa (TPA) or Orlando (MCO) and explore central Florida and the Gulf, hit up Everglades National Park or Biscayne National Park, and then continue south into the Florida Keys → check out Discovercars.com to rent a car for the trip. So many interesting and fun options for seeing all the best Florida has to offer!
Driving the Overseas Highway
Starting in Florida City and ending in Key West (Key West is fascinating!), the Overseas Highway is one of the most beautiful roads I've ever driven. The Florida Keys road trip is beyond beautiful!
The Beartooth Highway in Montana has epic views and the Pacific Coast Highway through California is loaded with iconic sights, but the Overseas Highway is absolutely breathtaking. Connecting 43 of the nearly 1700 islands in the Florida Keys (most aren't habitable), the Overseas Highway offers some incredible view.
On our recent drive from Key West to Key Largo, we saw dolphins and even a giant manta ray jumping as we watched from the car heading up the highway. If you want to dedicate more time to watching the wildlife along the Overseas Highway, there are lots of easy stops you can make, including at many of the state parks just off the main road or go on a nature and historical tour in a comfortable van with a professional guide and visit more than 20 bridges en route to three islands, including stops at Bahia National Park, Blue Hole, and more. Driving the Overseas Highways is a highlight of any Florida Keys vacation.
Tip: make stops along the Overseas Highway for activities like walking the Overseas Heritage Trail near Indian Fill Key or kayak from Spanish Harbor Key near Bahia Honda, one of the best places to kayak in South Florida.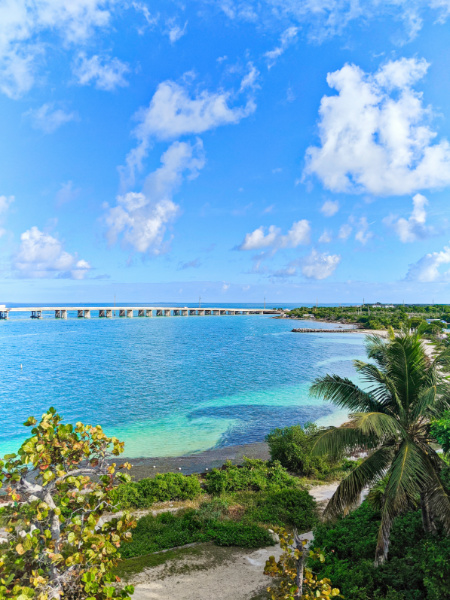 Communities along the Overseas Highway
As you're driving between Key Largo and Key West, you'll drive through many small communities. Some truly feel like towns and other seem like they're just resorts and supporting business along the highway, but drive a block or two over and you'll find there are shops, restaurants and marinas all over the place. There are gas stations on nearly every Key and grocery stores on Key Largo, Islamorada, in Marathon and also Key West.
Many of the Keys are very narrow, so you may see water on each side of the road, but between the smaller Keys you'll find nearly every type of service or shop you might want. There are lots of souvenir shops, key lime pie spots, and plenty of fishing charters available as you make stops.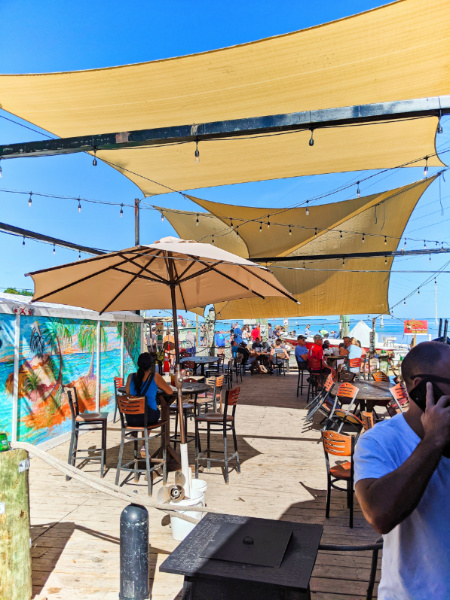 When to Take a Florida Keys Vacation
The weather in the Florida Keys is some of the best in Florida year-round. With a median temperature of 82 degrees F for the year, you can't go wrong. The coldest month is January with an average of 74 degrees, and the hottest month is typically August with an average high of 89 degrees. Yes, it can be chilly if you go out on the water from any of the Florida Keys, but even visiting in winter months tends to be much warmer than any other place in the USA (except Hawaii).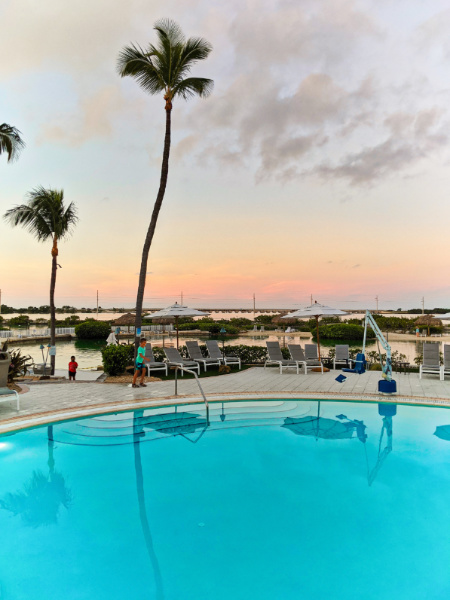 Hurricanes in the Florida Keys
The thing to consider when you're planning a Florida Keys vacation is hurricane season. While technically hurricane season in the Florida Keys is considered June 1 through November 30, the most active timeframe is August 15 through October 30. That doesn't mean that there is a constant hurricane watch or that a category 5 is going to develop overnight, but just that this is historically when most hurricanes have developed.
Something about hurricanes that can actually give you peace of mind when you're planning a Florida Keys vacation is the advanced warning system for hurricanes. Because hurricanes are storm systems that develop out over the Atlantic Ocean and slowly make their way west, you actually can watch the path of a hurricane far in advance and make travel decisions based on what storm systems are doing. If there is a risk, the Florida Keys will start evacuating in plenty of time to ensure safety.
If you're deeply concerned about a hurricane ruining your Florida Keys vacation, plan your trip for spring or late fall. You'll have amazing weather (even if it gets rainy, because Florida is a rainy place) and the chances of a large storm forming are extremely small.