Exploring the Florida Keys for a dream vacation? We have put together our top resort recommendations in the Florida Keys to stay as you make your way south.
We've stayed in MANY Florida Keys resorts, including some vacation rental options, and have put together our top resort recommendations in the Florida Keys to consider as you explore. Also, keeping in mind smaller crowds and the abundance of nature in the Florida Keys, this vacation plan is great for having a one-of-a-kind experience beyond the busier spots in the Keys.
**This post originally appeared on 2TravelDads.com, our sister site.**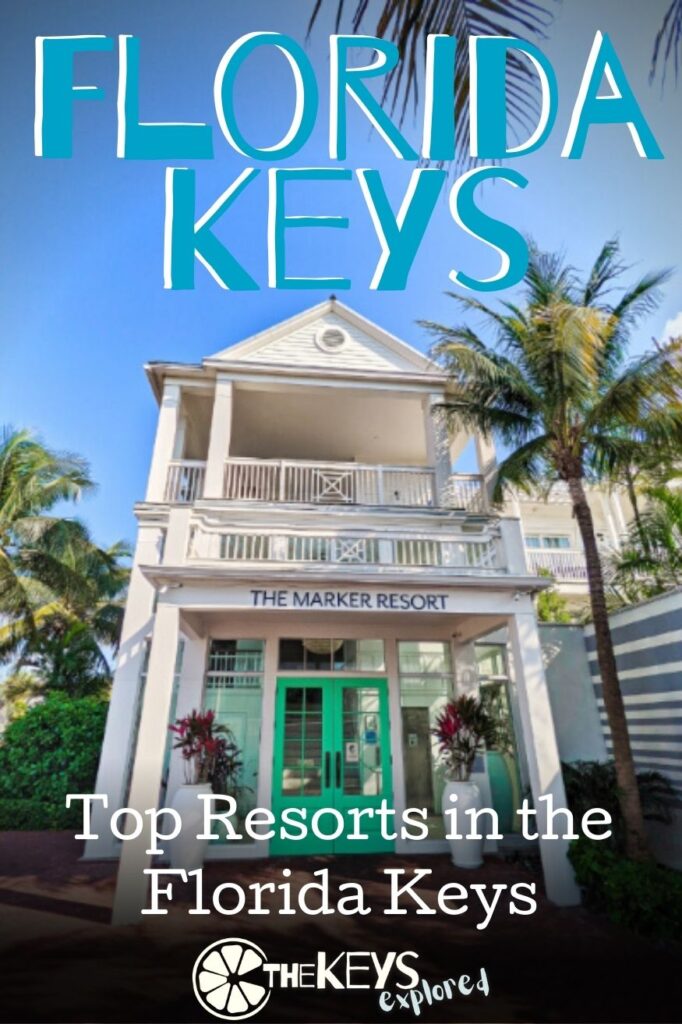 Where to Stay in the Florida Keys
There is the full gamut of accommodations options for you to consider. There are Florida Keys resorts that rival the all-inclusive options in Mexico and the Caribbean as well as small boutique hotels in the middle of historic neighborhoods. Choosing where to stay on your Florida Keys vacation is an important part of the planning process. Here's how I recommend you approach choosing a Florida Keys resort or hotel:
plan your activities for your trip, spending time in both the Lower and Upper Keys
set a budget for what you want to spend per night or in total for accommodations
find a hotel in each of the portions of the Keys you'll be spending the most time
An example of how to pick your home base for your Florida Keys vacation: four days exploring Key West and the Lower Keys (including a trip out to Dry Tortugas National Park), 2 days in the Middle Keys, and 2 days in the Upper Keys – 4 days at a hotel in the Key West area, 4 days at a hotel or resort in the Upper Keys. Note: the Upper Keys have the best places to kayak in the Florida Keys, so you may want more time up there.
Booking your stays so that you don't have long drives each day will save you lots of time and afford you more opportunities to relax and enjoy the part of the Keys you're in for the day. You'll still have opportunities to visit the places between the many Keys, but you won't have the stress of changing hotels multiple times allowing you to have a more peaceful vacation.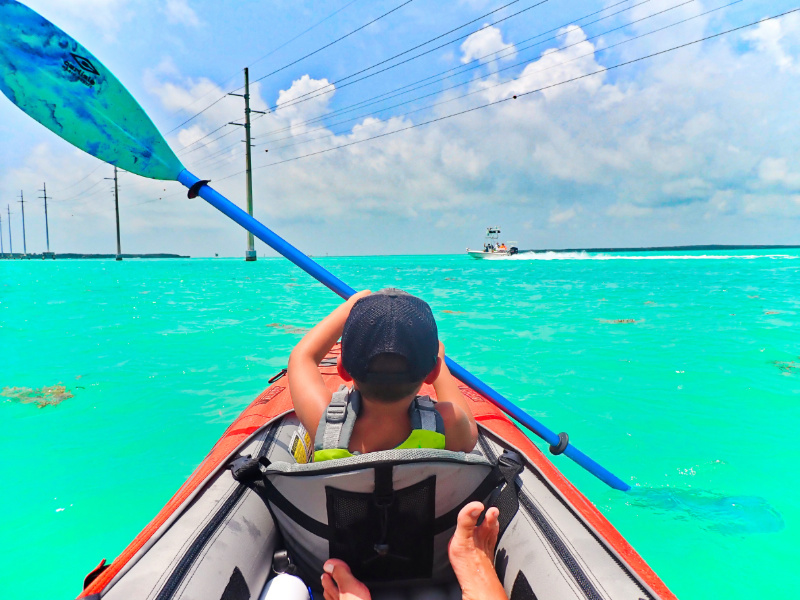 Key Largo vs Key West: What's the difference?
As we traveled through the Florida Keys and shared our experience on Instagram we got a lot of questions about staying in Key Largo vs Key West, and if a trip should be planned to only visit a part of the Keys vs the whole chain in one adventure. So, here's the scoop.
Key Largo vs Key West isn't even a comparison. They are very different places and offer absolutely different experiences. Key West is a city with an historic core, with countless hotels and bed and breakfasts, and is large enough that it's got its own airport. Key West is a great home base for adventures out on the water, but then also is great for exploring on foot. You can walk to almost anything within the town of Key West and actually don't even need a car. And there is a ton of key lime pie to try in Key West. (get my key lime pie recipe here for making at home)
Key Largo is a different story. Key Largo is largely split by the Overseas Highway and while there is a phenomenal bike path/running path on the Key, it's much less walkable than Key West. Key Largo has several beautiful resorts, a few different marinas and even multiple state parks. It's more spread out and is much more quiet than Key West.
Key West vs Key Largo when you're trying to plan your Florida Keys vacation is more of a concept of splitting your travel into a busy portion and a relaxed portion. Spend time in Key West enjoying the Florida Keys culture and Key Lime Pies, then spend several days based on Key Largo just enjoying the snorkeling and kayaking, and then relaxing at your resort or vacation rental.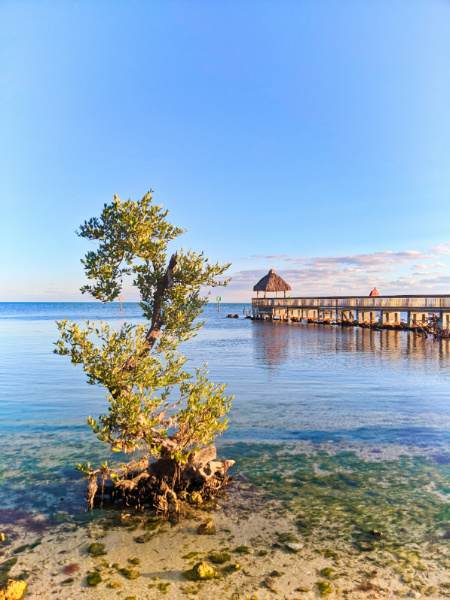 Florida Keys Resorts to Consider
As you start to plan your Florida Keys vacation, you'll see that there really are a lot of resorts and hotels to choose from, of every level. As I said above, it's best to split your time staying a few days in Key West and then the rest of your time up in Key Largo or the Upper Keys. If your goal is to stay in the middle of the action, choose a Key West hotel that is walkable to Old Town. You can also find B&Bs and boutique hotels that range from super modern to vintage Florida. Key West is wonderfully eclectic in that way.
There are all kinds of short term rentals too, from studios in 19th century homes, to rooms in picturesque bed and breakfasts. Whether you're visiting for a few nights or a month, private rentals can be a great budget-friendly option over a larger resort or 4 star hotel. If you're considering a vacation rental or booking through AirBNB or VRBO, be sure that you read the reviews and fully understand the space you're booking (and the fees too). Watch for notations such as "shared space" or "efficiency."
Don't worry, we have Florida Keys resorts to recommend to you too. We're not going to leave you to the wild west of the internet to find a solid recommendation.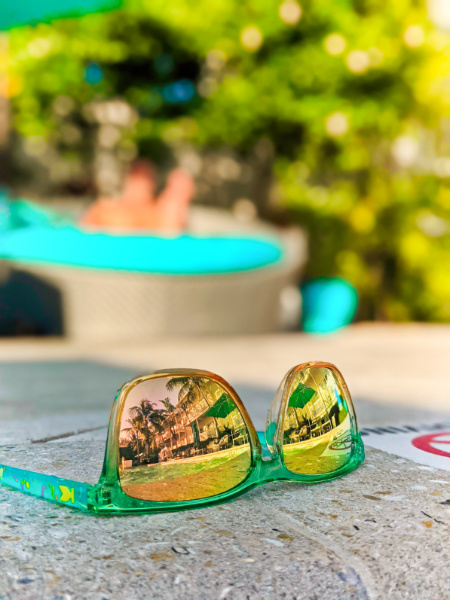 Where to Stay in the Upper Keys
The Upper Keys are great for doing a weekend trip down from Miami or Naples, or if you're a diver. I love the mellow vibe and that Key Largo itself really is a place that people live. There are lots of restaurants, and you'll have tons of options for kayaking up here.
Ocean Pointe Suites, Key Largo
We love Key Largo for its chill vibe and abundance of natural areas. The island isn't as developed as others, but still has lots of great restaurants and activities. On Key Largo, we stayed at the Ocean Point Suites resort. Set away from the Overseas Highway, it's located on the water with gorgeous views. There is a café on property at the clubhouse on the marina, and a full bar, perfect for a drink at sunset on the water.
The condo units of the Ocean Pointe Suites are individually owned and then managed by the hotel, so each unit is different. The layouts and basic features are the same, and all have balconies and a water view, but the units may vary a bit inside.
We stayed in a two bedroom condo unit that slept six: 1 king bedroom w/ bathroom, 1 bedroom with 2 twin beds, and then a pull-out sofa sleeper. There was a full bathroom connected to the main living space, and a washer/dryer stack. We liked the layout of our resort condo suite because there was plenty of room for our family to spread out, and it was quiet enough to be able to work from during our stay.
Booking tip: advanced booking (more than 2 weeks out) can usually get you a discounted rate, and while you cannot request a specific condo unit number, booking in advance will give you a better chance of securing the room layout you prefer.
We enjoyed the location on Key Largo, the pathways through the mangroves, the private beach and the picturesque pier with a palapa at the end. It was a nice, quiet getaway destination. Note: there is also a pool and spa tub on property, but depending on the season may not be accessible/heated.
Book the Ocean Pointe Suite Key Largo Resort here!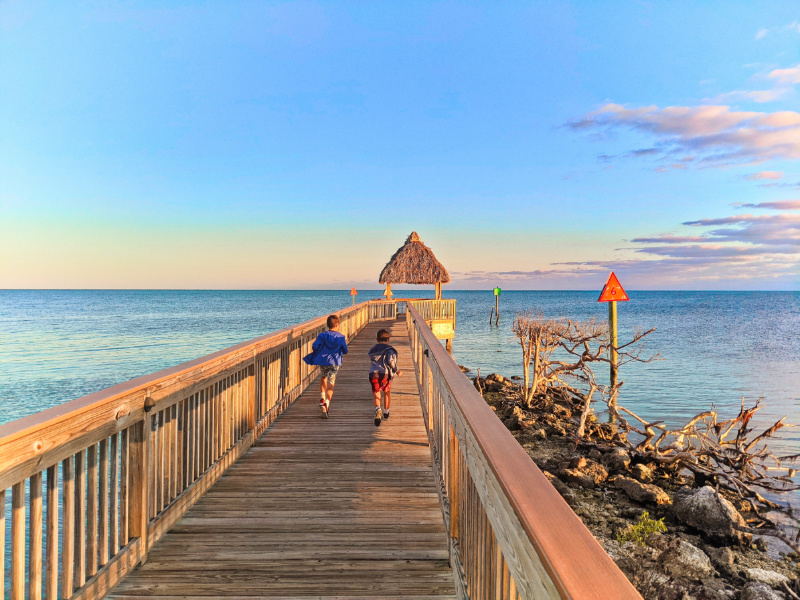 More Upper Keys Stays We Like
There is no shortage of great places to stay in the Upper Keys. While it might not be the unique destination hotel you've always dreamed up for your Keys vacation, the Holiday Inn Key Largo has been a favorite of ours for year. They have two awesome pools, beautiful gardens, are next door to our favorite Key Largo Restaurant (Skippers Dockside) and we are able to use IHG Rewards points to book it. Book the Holiday Inn Key Largo here!
Another pick: Baker's Cay Resort. This place is gorgeous and has an actual beach! Baker's Cay Resort is a part of the Curio Collect by Hilton, so you know it's nice. From sunset dining looking across the gulf to waterfalls cascading into the swimming pools, it's a unique, beautiful place to stay. Book Baker's Cay Resort here!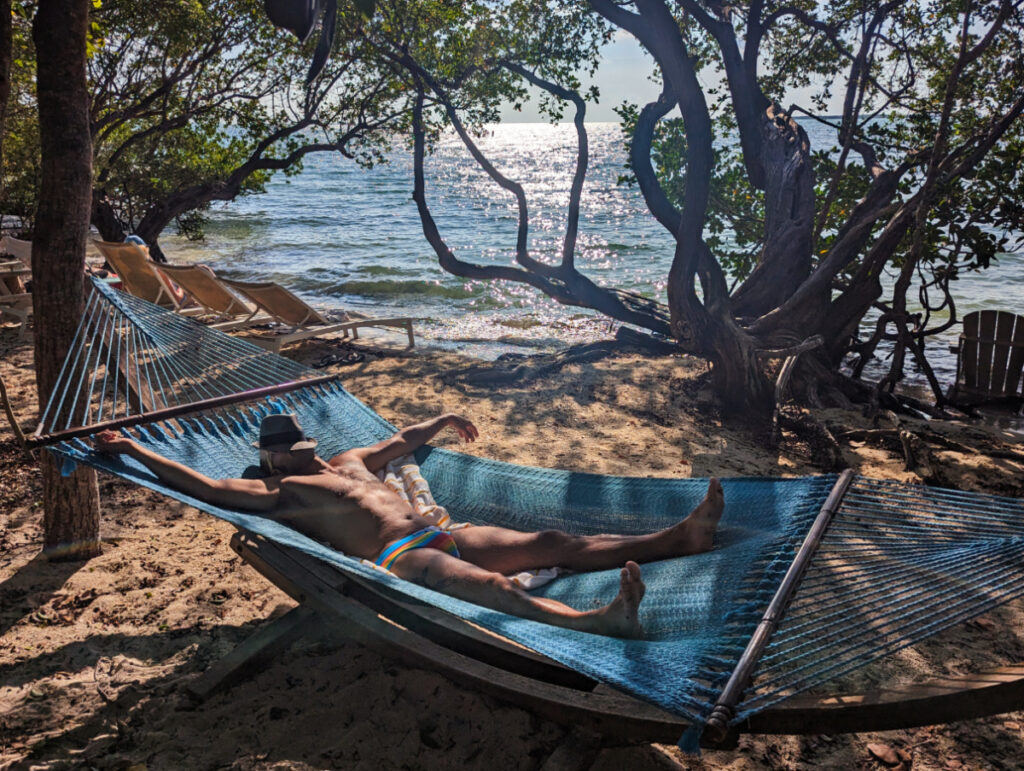 Middle Keys Resort Picks
If you're planning on fishing while you're in the Keys, being based in the Middle Keys is ideal. There are also some wonderful snorkeling options out of the Middle Keys, so you can't go wrong staying in this part of the Keys.
Hawks Cay Resort, Duck Key
The Middle Keys stretch from Seven Mile Bridge at the South to Long Key Bridge at the North. The town/community of Marathon is a part of the Middle Keys, so staying nearby is ideal for a lot of the fishing and diving opportunities in the Florida Keys. We stayed at Hawks Cay Resort on Duck Key and loved its central location. It was easy to pop down into Marathon for meals and activities, but then also quick to get up to Islamorada for other adventures (several fishing companies in Islamorada). Great location.
Hawks Cay Resort is similar to Ocean Point Suites on Key Largo in that it's both a hotel and it's a collection of privately owned vacation rentals. There is a hotel portion that is just off the main lobby and swimming pools, and then there is a large collection of townhouses, many with private plunge pools. We stayed in a vacation rental townhouse just off one of the canals surrounding Duck Key and the Hawks Cay Resort.
The Hawks Cay Resort also has all the amenities you'd expect of a hotel property of this size: fitness center, kids club, adult pool, family pool, café/marketplace… It's got it all. There is also, and this was our favorite, a salt water lagoon that was connected to the ocean. There were fish and other sea life in the lagoon, and the kids really enjoyed both swimming and trying to catch creatures.
An attraction at the Hawks Cay Resort that we didn't do but saw was a dolphin experience. Had we known that this was a part of Hawks Cay we would never have stayed there. There are several dolphins in captivity and whether they are rescues that can't be released or bred in captivity, we have no idea as there was no information about their captivity record readily available to guests. We do not support dolphin tourism and feel that if you are going to have animals captive for guest experiences, there needs to be transparent information clearly presented to guests.
While the whole of the Hawks Cay Resort was very nice, the surprise dolphin captivity colored the experience for us. We really liked Hawks Cay, it's a great Florida Keys resort, but wouldn't return solely because they have dolphins in captivity. We realize that not everyone feels this way, and perhaps things will change in the future re: dolphins, so we do still recommend Hawks Cay Resort for a family Florida Keys vacation.
Book the Hawks Cay Resort on Duck Key here
And here's a
specific vacation rental unit that's in a great location on Duck Key.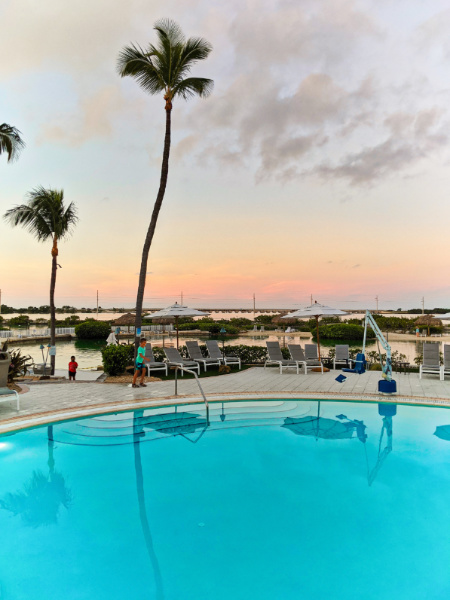 More Middle Keys Stays
There are some great, fun places to stay in the Middle Keys, including on Marathon. Here you'll actually find a lot of more vintage stays, as well as VERY new resorts. If you're thinking of booking a spot that's a solid home base for getting on the water AND doing day trips to other islands, something in the Middle Keys is perfect.
The Grassy Flats Resort is pretty wonderful. Big rooms with decks, two swimming pools, a rooftop bar, complimentary kayak and paddle board rentals… It's fantastic. The only downside about staying on Grassy Key (or any of the keys with broad flats) is that low tide exposes the less savory side of the Florida Keys ecosystem: the muddy, grassy stretches. These are important for wildlife, but for fun they're gross to navigate. But that's why Grassy Flats is so great! They have amazing views and beautiful pools! Book the Grassy Flats Resort here!
Another wonderful pick is the Tranquility Bay resort. This is UPSCALE for sure, but if you're going for the gusto, it's a great option. Tranquility Bay has pools, beach space, beautiful gardens, walking paths and wonderful dining onsite. This is a top pick for a luxe stay in the Middle Keys. Book the Tranquility Bay Resort here!
Key West Hotel Options
There is no shortage of hotels and resorts in Key West. We've stayed in so many different sorts of accommodations that we have endless recommendations. We've picked two to highlight here though, and it's because of their family friendly nature AND how luxe they are.
Top Key West Pick: Laureate Hotel
I'll start by saying that if the Laureate Hotel Key West is in your budget or if you can find a great deal, this is our favorite hotel in all of Florida and you need to stay here. I know that it's not directly in downtown Key West, but its location is perfect for being right outside of the action and at the doorstep of the rest of the Lower Keys. And the hotel is beautiful and ALL SUITES! Check out our complete review of the Laureate Key West!
We stayed in a 3 bedroom loft suite and it couldn't have been more perfect for our family. We took advantage of the full kitchen (and grocery delivery service), the dining area, relaxed in the living room and out on both our balcony and our rooftop deck. Our hotel unit had one bedroom on the first level with its own bathroom, then a king room and a 2 queen bed room on the top level, each with access to the rooftop deck.
The hotel is very quiet with covered and off-street parking. The pool and outdoor patio space is also really wonderful, with table games and towel service to go along with plenty of poolside lounge chairs. We loved our time here and would happily return in a heartbeat!
Book the Laureate Hotel Key West here! (really, you should book it)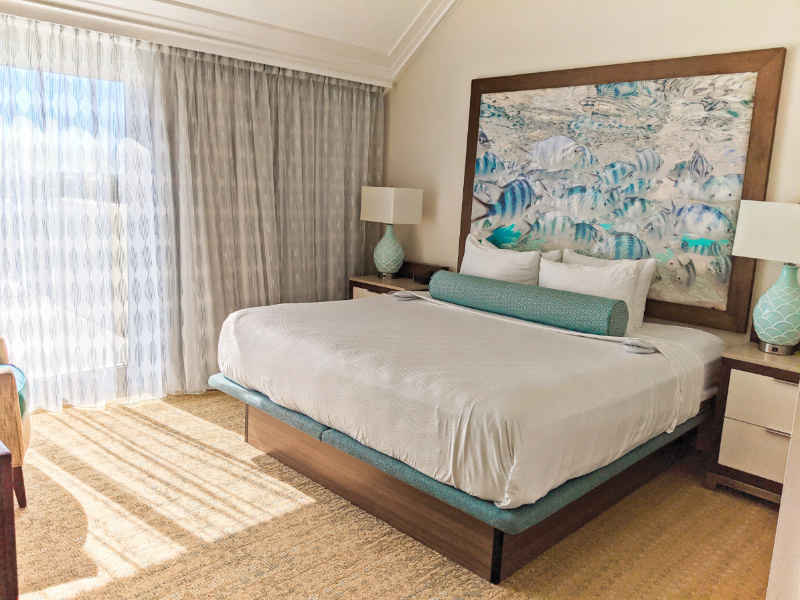 Lower Keys: Marker Resort, Key West
This is NOT a budget friendly hotel option in Key West, but staying at the Marker Resort at the Historic Seaport is awesome. The location cannot be beat, especially if you're heading to Dry Tortugas National Park, and the amenities on property are wonderful. The rooms are very spacious and they all have outdoor space, at minimum a medium sized balcony. The Marker Resort is really wonderful if you're doing a couples trip to Key West, but maybe not the budget-friendly family option.
Want to stay at the Marker Key West? Book it here!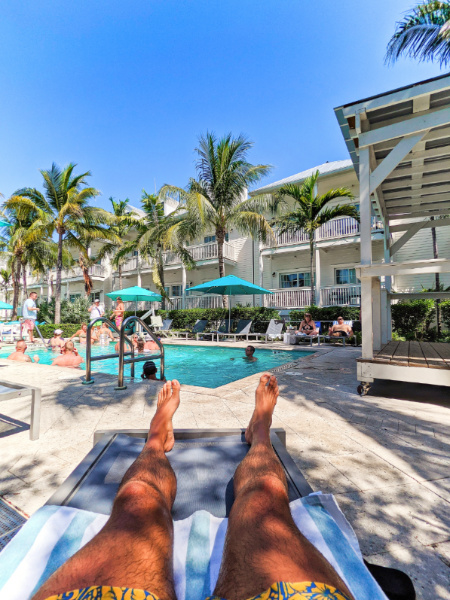 Woo! Now you have the scoop. I hope you feel ready to book a fun stay in the Florida Keys. We're always sharing more and more recommendations as we try more hotels and resorts, so stay tuned!